Put an end to security gaps
The complexity and costs of managing a diverse set of cloud and on-prem security solutions can hurt performance, strain resources, and stretch budgets. Cisco Umbrella solves this problem by bringing together secure web gateway, cloud-delivered firewall, cloud access security broker (CASB) functionality, DNS-layer security, and interactive threat intelligence in a single, integrated cloud service — to provide the most comprehensive protection for distributed networks and roaming users.
Cybersecurity pressures rise
Organizations are under pressure to do more with less. They need to reduce the number of security tools, improve integration across their security stack, and relieve over-burdened staff. These factors are forcing a shift toward consolidated, cloud-delivered security solutions that provide a broad set of protection while simplifying the security environment and reducing costs and resource requirements.
77%
of organizations have >25 security tools
46%
of organizations have >50 security tools
1.5M
unfilled cybersecurity jobs expected by end of 2020
Customer story
"Cisco Umbrella's new features enable central management protection for remote and branch locations globally. Having this functionality in a single platform reduces the time, money, and resources previously required for deployment, configuration, and integration tasks which are all critical in the cyber security world."
Youssef Oujdi
Global Manager of Cybersecurity, Alvarez & Marsal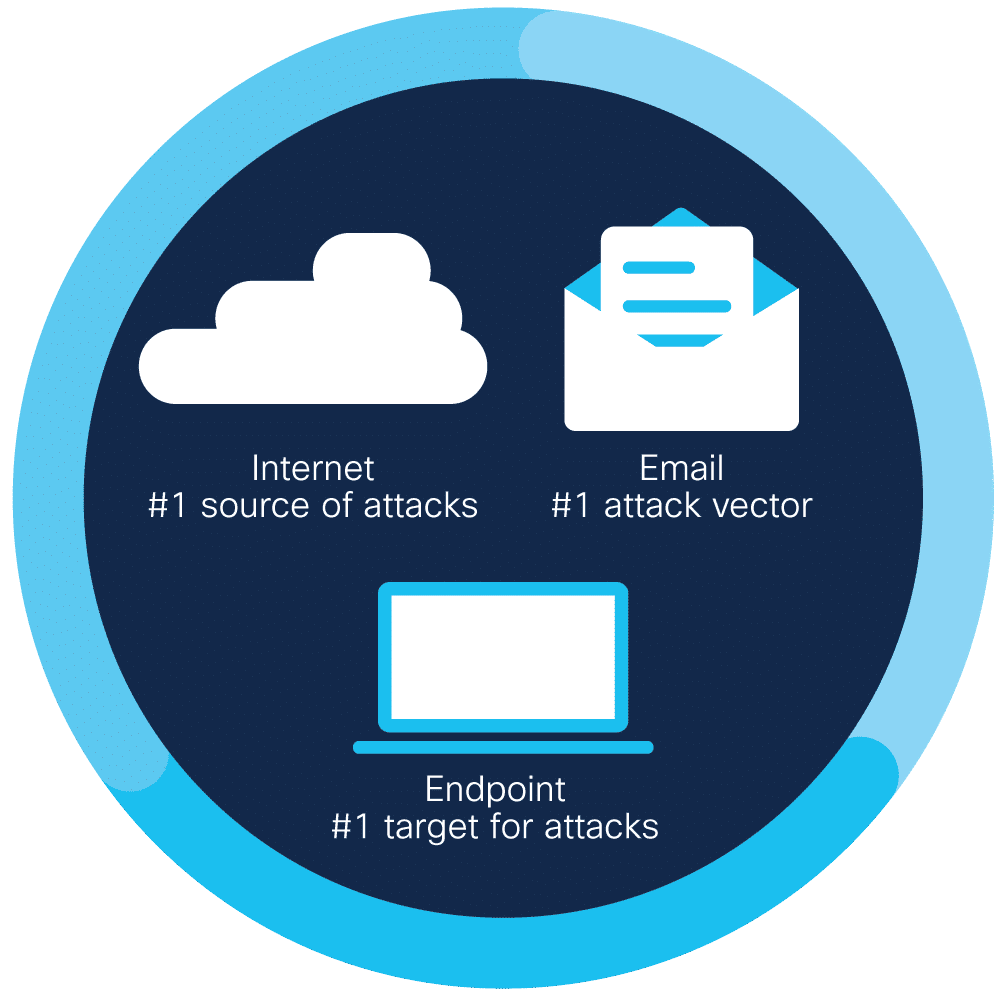 Beware of the attack trifecta
Companies need to balance security and business risk while creating a productive and safe environment for their users. It's a delicate balance, especially since humans are prone to error, and the cybercrime industry is constantly ready to capitalize on vulnerabilities in people or systems. Yet for the past few years, despite all the evolving threats, 3 things have remained constant in cybersecurity: Email is still the #1 vector for attacks, the internet is the #1 source for attacks, and endpoints remain the #1 target for attacks.
Wish you could clone your security team?
Get more value from your Cisco Security investment with products that work together to save you time and manual effort. Cisco Umbrella, Cisco Advanced Malware Protection (AMP) and Cisco Email Security help you to quickly detect, contain, block, and remove malware on connected endpoints and email systems to secure sensitive data and ensure compliance with company policies.
See once, block everywhere
See more everywhere your users work
Cisco SecureX is the unifying force powering the Cisco integrated security architecture. It's a single console that automates integrations across Cisco security products and threat intelligence sources to simplify and accelerate critical security operations functions.