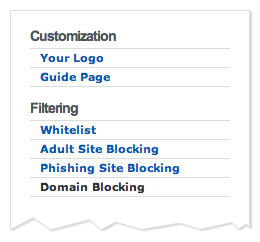 One of our favorite features is the option to customize the logo and message on OpenDNS Guide for every network in your free account.
Some typical Guide messages:
Australian Zoo and OpenDNS, teaming up to bring you a safer, faster Internet experience.
That domain isn't working… try one of the search results below.
Mary, you typed that wrong, but I still love you!
Many customers wanted different messages on different pages, so they could make the domain blocked page language more direct:
Domain blocked per company policy.

Not allowed at school.

No Facebook until you finish your homework, Jimmy.
We're happy to grant our customers' wishes.
Now you can have a unique message on each of four different pages:
Use your network Settings to make your own.
This post is categorized in: