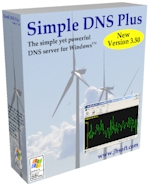 OpenDNS is a great complement to existing network set-ups. Hearing that others think the same is even better.
Simple DNS Plus is a Windows DNS server for hosting and managing your own domains, among other tasks. In response to customer requests, Jesper G. Hoy at JH Software created instructions for Simple DNS Plus customers interested in using OpenDNS for their external requests.
Thanks to Jesper for permission to share these instructions on our site, as part of our forwarding instructions.
This post is categorized in: