How easy is it to deploy Umbrella?
If you enjoy reading through 3,000+ page deployment manuals and spending months spinning up products, you'll like our competitors products. If not, we think you'll love Umbrella.
Get the power of Cisco Umbrella
By enforcing security at the DNS and IP layers, Umbrella blocks requests to malware, ransomware, phishing, and botnets before a connection is even established — stopping threats over any port or protocol before they reach your network or endpoints. Umbrella provides coverage for all connected devices – including roaming laptops, Android and iOS devices, and delivers great time-to-value.
620B
Resolves 620 billion DNS requests per day
5B
Processes more than 5 billion web reputation requests per day
170M
Enforce/blocks more than 170 million malicious DNS queries per day
200
Discovers more than 200 new vulnerabilities per year
Reporting you can count on
With Cisco Umbrella, you can quickly view trends across your deployment, and then pivot to understand security risks that require you take action. It's never been easier to spot and remediate victims, with reports that show activity for each device or network. You gain a more complete picture of the security risks within your organization.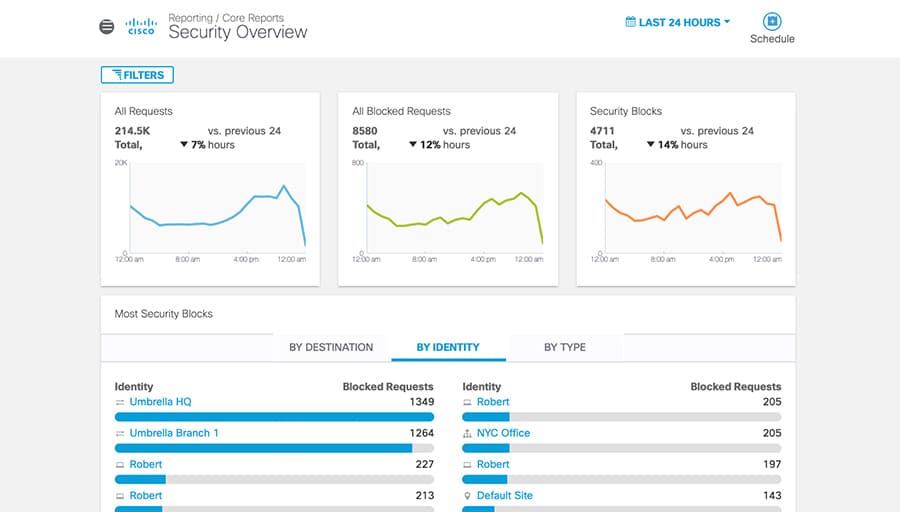 Avril Group customer story
"Umbrella secured the whole company network in 10 minutes."
Marc Tournier
CISO
Avril Group
Say yes to a 14-day free trial
Point your DNS to the Cisco Umbrella global network and any device that connects to it is instantly protected. Get fast, effective protection against threats today.