Our users tell us they want power and intelligence. Or rather, our users want intelligence about their network and the power to make changes.
Today we're taking it up a notch, turning your OpenDNS Account into a comprehensive Dashboard which gives you a more precise understanding of your DNS traffic. The ability to gain insight into your DNS traffic and then have the tools to act without needing to install any software or buy any appliances is a huge win that every IT administrator in the world will enjoy. On top of that, it's completely free.
Until today, we had a rudimentary (and rickety by our standards) stats system that would show you only a birds-eye view of your data. For instance, you could view a top-line number of total DNS requests and your top 10 domains per day. If you wanted to know the 11th domain, you were out of luck.
Want to know how many DNS requests you are doing each day? Want to know what your top domains are? Want to block sites easily all in an intuitive interface? Done, done and done. Now, you can get the count of every domain looked up on your network, over any period of time. View the data as a chart, a table or drop a CSV file into Excel. This is your data.
I like to think that the OpenDNS Dashboard is like Google Analytics for your DNS.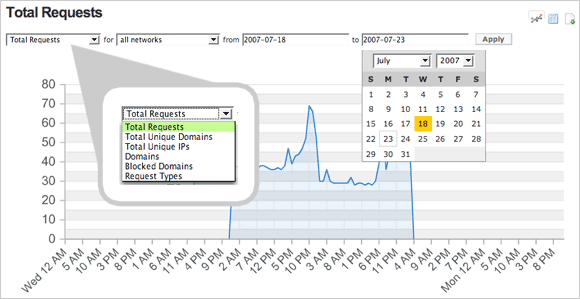 In the coming days and weeks you will see the Dashboard grow in functionality as we offer more ways to interpret your data. For those concerned about any privacy implications related to this new launch, I'd encourage you to read our post. Learn how we're now storing less data about our users than ever before and giving you full control over what data we keep.
Thanks to our new Dashboard, OpenDNS is the rock solid, reliable DNS that is safer, faster, smarter and now gives you near-real-time statistics and trends about what's happening with your network. Let us know what you think!