The traditional hub-and-spoke network topology is dying. That's the conclusion drawn by Forrester Consulting in a new OpenDNS-commissioned Technology Adoption Profile, titled "Securing Direct-To-Internet Branch Offices: Cloud-Based Security Offers More Flexibility And Control." The report draws on new survey data that reveals the opinions of enterprise IT leaders about trends in branch office networking and security.
As the paper states, the same trends that are eroding the network perimeter — most notably a mobile, cloud-based and distributed workforce — are now threatening the hub-and-spoke networks that many organizations use to connect their branch offices to the corporate data center. It also reveals that IT professionals are increasingly feeling pressure to scrap traditional, rigid centralized networks in favor of point solutions and "as-a-service" network connectivity.
Similarly, Forrester's survey dat
a shows that the majority of branch offices rely on some form of direct connection for Internet access, with 40 percent of respondents saying their organizations entirely bypass the WAN at the branch office level. Only 36 percent of organizations backhaul traffic through a WAN connection exclusively before sending it out to the Internet.
In many ways, this survey data echoes recent comments made by other leading analyst firms. Late last year, Gartner also stated that increased use of mobile devices and the cloud are leading to a trend in which more and more corporate traffic is bypassing the traditional WAN. Gartner also predicts that by 2018, 25 percent of corporate data traffic will flow directly from mobile devices to the cloud. Data from these and other analyst firms point toward increased business demands for agility, flexibility and worker empowerment trumping centralized IT authority over corporate Internet access.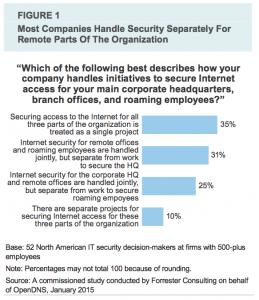 Forrester survey data also shows that this network change is impacting the way enterprises plan and implement security programs for branch offices.Survey respondents said that only 35 percent of companies are securing access to the Internet for their corporate headquarters (HQ), branch offices, and roaming employees as a single project. The rest are dividing security for these groups into separate initiatives.
For more information, and to read the full study, check out the Forrester Technology Adoption Profile.