Phones, PDAs, and every other mobile device smaller than a laptop and bigger than an iPod Shuffle needs DNS for web browsing, among other things. With speedier networks, the mobile web is getting more and more useful…and speedy DNS makes the experience better. Frankly, I had forgotten this obvious use of OpenDNS, until we started seeing our users comment on websites devoted to mobile devices.
Thanks for the reminder!
Change your mobile to OpenDNS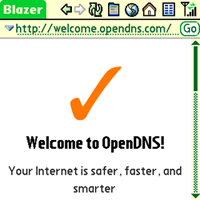 Today, we added instructions about how to change DNS on your mobile device, with our first entries covering Windows Mobile and Palm OS 5 (Treo).
Help us provide more details
Mobile devices are even more numerous and diverse than routers, so I'd love your help in two areas.
First: let us know which other devices most need instructions for changing to OpenDNS. Please include carriers and countries, if informative.
Second: if you'd like to write instructions to share your personal knowledge, I'd welcome the assistance. Send instructions and/or screenshots to our contact email address or link to instructions in the comments here.
Note: I'm still working out how I might expense a Sony PSP so I can write up instructions about how to use OpenDNS on this (ahem) "productivity" device.