Here at OpenDNS we've spent the past several months working to keep you safe from the Conficker worm. Using the OpenDNS service is widely considered to be one of the easiest and most guaranteed ways to protect your network. And today we roll out a free Conficker detection tool to give you actionable insight into whether or not you have Conficker on your network.
As David mentioned here, we're in a unique position as your DNS provider of choice to block the worm at the DNS level and prevent it from phoning home. We're also in a unique position to tell you, based on DNS queries coming from your account, if your network has been infected with Conficker. Log into your OpenDNS account now and you'll see a banner indicating you either have Conficker or you don't. This is a tremendously valuable service, and representative of a key innovation on the DNS. If you have friends or colleagues not using OpenDNS yet, we urge you to recommend the service.
Even though we prevent the worm from phoning home, we advise everyone with Conficker to run the disinfection tool.
Also today we're sharing data about geographic distribution of the worm's C-varient to date. This information is based on OpenDNS data alone, so is not necessarily representative of overall geographic Conficker distribution.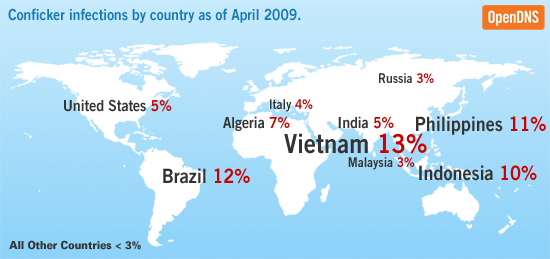 We'll continue blocking Conficker for all of our users, through our on-by-default Botnet Protection feature. And we'll keep you posted with updates about the virus, if/when we have them, on this blog.