SysAdmin Appreciation Day is here at last – and we're celebrating by announcing the winners of our 2013 OpenDNS SysAdmin Awards Contest! We threw down the challenge, and the OpenDNS Community answered in a big way, flooding our inbox with amazing entries from every corner of the globe. Although selecting the winners was a long and arduous process, we dug in and came up with six awe-inspiring tales of SysAdmin heroics – and one funny cat photo.
Without further ado, presenting the winners of the 2013 OpenDNS SysAdmin Awards:
SysAdmin of the Year 2013: Teresa Warpula
Our 2013 SysAdmin of the Year is second to none when it comes to passion for the job. As the lone IT staffer for Minnesota's largest school district, Teresa manages a seemingly endless list of devices – and she's adding more. In addition to iPads, desktops, projectors, phones, and servers, Teresa also helps to keep the schools safe by monitoring approximately 100 security cameras, staff badges, and automatic door locks. As if this wasn't enough, she's also upgrading to a fiber connection. Teresa is going above and beyond for the members of her district each and every day – an even more amazing feat when you consider she's on her own.  For everything she does to keep St. Louis County Schools' networks up-to-date and problem-free, we're proud to present Teresa Warpula with the 2013 SysAdmin of the Year Award!
Hand-Me-Down-Hacker Award: Ian Silber
Not all errors SysAdmins face are man-made. Networks can also be compromised by physical dangers and disasters, such as Hurricane Sandy. Ian and his team, working for an MSP in New York, were faced with the task of redoing a client's entire infrastructure after 4' of flooding wiped it out during the storm. This outstanding effort led to all mission critical applications and data running again in just 24 hours, with all employees working at almost 100% capacity! Ian showed a true SysAdmin's insight and planning in having backups ready to go. Thanks to his quick thinking and action, his client was able to avoid catastrophe.
Flying Solo Award: Gary Hartwell
This year, we had a ton of Flying Solo entries – but Gary stood out among them for his valiant efforts as the lone SysAdmin as well as the only IT support staff member at his company. Walking into a perilously outdated server situation, Gary sprang into action and "relocated, consolidated, virtualized, and expanded services to running more than 18 different VM's". He also made himself available to solve problems 24/7, even while on vacation! From running the help desk, to acting as a network engineer, updating security measures, and handling database administration, Gary does it all – and for that, he's the perfect candidate for our Flying Solo Award!
PEBCAK Award: Eric Reynolds
Eric delighted us with this tale of user-error – we'll let him tell it in his own words:
"We had a colored pencil department full of creative types. They loved their Macs with the color corrected screens and crazy graphics programs that never would run right on a Windows machine.
Not long after I became the sysadmin, one user developed problems with her monitor. She arrived an hour before I did, and would call and leave a message that her monitor was 'acting funny'. She said the color would be off, it would blink, and sometimes she complained of smoke. By the time I would get in, there was no problem. Color looked good, no problems, and she was working. After a week of this I decided to come in early to see what might be going on.
When I arrived, she was not there yet. So I sat down in an empty chair and waited for her. We spoke for a few moments when she arrived, and I told her to go about her normal routine. She flipped on her computer and monitor and there weren't any problems. I waited around for an hour but no problem ever showed itself. So I went back to my office. Before I got back I had a message waiting for me, so I ran back to her workspace and sure enough her monitor was going crazy. I asked what happened and she said it was nothing. I asked her every step she took after I walked away.
"All I did was water my plant!" she cried.
I looked and noticed a small potted plant on the shelf above her monitor. Under the shelf there was water damage where it would drip down after she watered it.
I solved the issue with nothing more than a gentle suggestion to keep all liquids away from all electronics, and by moving her plant somewhere that it wouldn't drip onto the monitor."
Neat Freak Award: Brett Mason
They say a photo is worth a thousand words – and Brett gave us an album full! Taken while replacing a data center, you can clearly see the amazing transformation Brett and his team were able to turn out. Their makeover raised performance from 45% to 85% – and it's easy to see why! For completely transforming this data center with no down time, Brett and his team blew away the competition for the ever-popular Neat Freak Award!
More photos: http://on.fb.me/14bN7kT
Doing More with Less Award: Erik Sheldon
Erik astounded us with his amazing tale of triumph over obstacles too numerous to count. After being called upon by management to install a Hyper-V solution despite limited working knowledge of the system and no training, Erik somehow made it work with crazy hours, an unhealthy amount of caffeine, and the ever-helpful Google search. One year later, things are still humming along. Erik has proven himself as a heroic SysAdmin who embodies the traits necessary for this demanding job: flexibility, intelligence, and patience; we can't think of a better recipient for the Doing More with Less Award!
Caption Contest Winner: dtsomp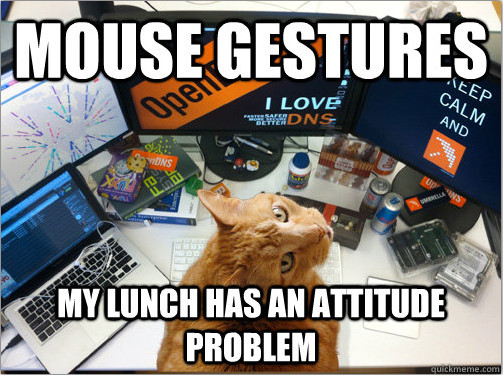 All of our victorious SysAdmins will receive prize packs loaded with tons of goodies to help them get through the day: caffeine, nerf guns, SysAdmin-approved tools, and of course tons of OpenDNS swag –  although the greatest prize of all might be the bragging rights!
Thanks to everyone who entered this year's OpenDNS SysAdmin Awards!
This post is categorized in: