Giving holiday gifts is a big part of what makes this time of year so great, but with the economy going down the tubes, many of us are looking over our gift-giving lists and fretting about how we're going to come up with gifts for everyone — without breaking the bank.
Going out on a limb here, but if you're reading this, I'm gonna guess you're the tech expert in your family and group of friends. You're the one who's asked to check your mom's computer for viruses, who your neighbor runs laptop prices by to make sure he's getting a good deal, who your friend calls when his Internet connection is flaky. You have knowledge and expertise they don't, and this year I encourage you to gift it!
Give your loved ones the Gift of Safe, aka OpenDNS. Simply send everyone on your list the "You've Been Gifted" email we've created to make it as easy as possible to gift OpenDNS.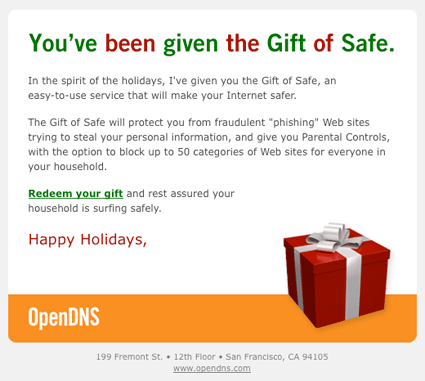 They'll get all of the benefits you get now — industry-leading phishing protection, Parental Controls with more than 50 categories to choose from, and a faster and more reliable Internet connection. On top of all of that, this gift gives back. You'll field fewer friends and family support requests. 🙂
Check out the video our good friend Chris Pirillo made for Gift of Safe this year, and give, give, give!
Happy holidays!
This post is categorized in: