We just posted PhishTank statistics for April 2008. No major surprises: The United States is, for the thirteenth straight month, hosting more phishes than any other country; A group of large banks, eBay, and PayPal round out the top most spoofed brands; And the PhishTank community of submitters and verifiers continues to have an impressively high accuracy rate.
The headlines tell us the phishers are not giving up. Seemingly every week we see reports of a new type of phishing scam. This week it's Google AdWords phishing, where AdWords account holders are sent emails alerting them their account needs updating. The account holder logs into the spoofed AdWords interface and hands over their credit card information.
The AdWords phishing scam is interesting to me largely because, in lots of cases, it's targeting businesses. People understand identity theft. But what happens when a business's identity is stolen? There's no easier or more efficient avenue to get reimbursed for a business than for an individual. Basically, whether you represent yourself or your company, you have to go to your credit card company and beg for forgiveness. (Whether or not it should be the banks — some of the most commonly spoofed brands — that are responsible for reimbursing money stolen through phishing is part of a separate debate.)
And the spoofed AdWords account interfaces, at least the ones I've seen, are good. I can easily understand how the marketing person tasked with managing AdWords for their company could be fooled. I know plenty of small and mid-size companies that rely on online advertising to drive traffic to their site, and see huge dents in revenue when something goes wrong and the traffic doesn't come. That marketing person has plenty of incentive to make sure their account information isn't wrong and nothing is preventing potential customers from seeing their ads.
Experts repeat the same warning about AdWords phishing that we've all heard about phishing in general for years: Educate yourself about phishing and look skeptically at URLs. Remember that as a general rule, you won't be warned via e-mail that your account has been compromised, so if you are ever encouraged via e-mail to login to an account and update information, proceed with caution and look closely at the URL you're encouraged to click.
Take for example, one of the AdWords phishes someone submitted to PhishTank. See the "d0l9i.cn" in the middle of the URL? If you open a new window and load http://adwords.google.com/select/login, you'll see the real site's URL doesn't include that series of characters. That should be a red flag.
[NOTE: This is a known, verified phishing site. We recommend you do NOT visit it.]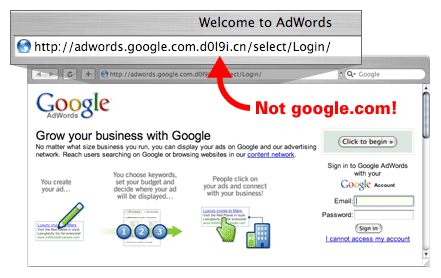 OpenDNS users and users of other services leveraging PhishTank data — McAfee, Opera, Yahoo! Mail, Kaspersky Labs, to name a few — have an extra line of defense when it comes to phishing — they benefit from PhishTank and the wisdom of the community. But it's abolsutely a good idea to learn to look for inconsistencies in URLs and think twice before providing sensitive information online, whether it's your own or your company's.
This post is categorized in: