Seems like schools always get the short end of the stick. Teachers are underpaid, classrooms are understocked and for the most part technology budgets stink, even though security measures are mandated.
Back in the earlier days of OpenDNS, we didn't expect the service to be such a hit with schools. But as more and more schools signed up, it dawned on us: OpenDNS is a perfect fit.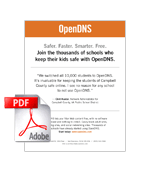 Think about it: the same Web-content filtering functions that expensive tools perform, but for free, so budget isn't exhausted. Combined with speedier surfing and a more reliable network — OpenDNS is a no-brainer. Matt Parnell makes a great case for this.
All of the above are why we're making October 'Take OpenDNS to School' month and calling on you to help us spread the word. We want your local school or district to end up an OpenDNS Success Story like Jackson Public Schools, the largest school district in Mississippi and an OpenDNS customer.
If you have kids, know someone who has kids, or simply want to help, just print or attach this PDF and make sure it ends up in the right hands. If you're not sure who runs the network at the kids' school, the computer teacher will likely know, if he/she doesn't run it him/herself.
If you run the network for a school and are using OpenDNS, we'd love to hear about it.
This post is categorized in: