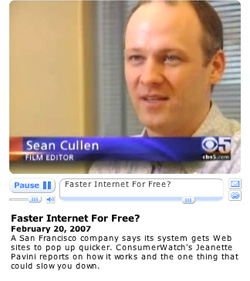 The San Francisco CBS affiliate, KPIX, aired a segment yesterday about OpenDNS and how it makes the Internet faster. We were even the teaser before the commercial! John Roberts and our much-appreciated local customer, Sean Cullen, were interviewed for the piece. Sean is a busy film editor and it's not easy for him to get away mid-day, which he did for the filming.
The segment was great because it not only explained what a fantastic service OpenDNS is, but also explained what the Domain Name System is – not easy!
Thanks to producer Julia Madden and reporter Jeanette Pavini (who you may remember from the PhishTank segment last year) for helping spread the word. 🙂
If you saw the segment, what'd you think?
This post is categorized in: