This year's Super Bowl commercials were largely uninspired and forgettable, but there was one notable exception. Sprint's Connectile Dysfunction ad took us by surprise with its clever wordplay and dead-on parody of the drug industry. Hilarious. If only we had thought of that!
Sadly, we did think of it, but Sprint beat us to the punch. Here's a mockup we were working on last week, days before the Super Bowl: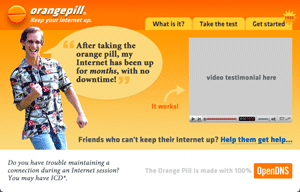 It looks different than Sprint's campaign, but the basic spoof ("keep your Internet/mobile connection up with OpenDNS/Sprint") is exactly the same.
Oh well. We won't be launching our version of the joke — there's no way our 3-person marketing team can compete with Sprint — but at least we can look back and say we had a Good Idea. 🙂
This post is categorized in: