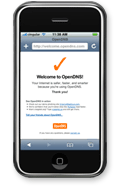 Like the rest of the world, we noted with interest the announcement of the iPhone at yesterday's Macworld keynote.
By "noted with interest" I really mean "we all are crushed it's not available yet." 🙂
As soon as the device is available in the wild, we'll write instructions about how to switch the DNS settings to OpenDNS nameservers. In fact, I've selflessly (?) volunteered to purchase the device for the sole (ahem) purpose of writing these instructions.
Would this count as a "business" expense?!?
This post is categorized in: