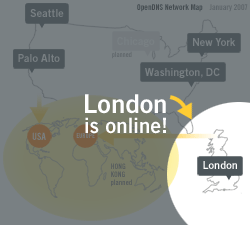 OpenDNS network map, updated. Full map.
It's been a long time coming, but we are now online and operational in London! We actually turned up our routing announcements about two days ago but I wanted to hold off on the blog post to make sure everything was stable. Some folks in the forums noticed we were online and beat me to the announcement. 🙂
I've been using a server in Amsterdam, hosted by my friend Peter, to test how latency changed when London came online. It should be obvious, but the results are very good and show just how important it is for us to be online in Europe.
From Amsterdam to OpenDNS before London goes online:
bash$ ping 208.67.222.222
64 bytes from 208.67.222.222: icmp_seq=0 ttl=57 time=145.077 ms
64 bytes from 208.67.222.222: icmp_seq=1 ttl=57 time=152.962 ms
From Amsterdam to OpenDNS after London goes online:
bash$ ping 208.67.222.222
64 bytes from 208.67.222.222: icmp_seq=0 ttl=58 time=9.814 ms
64 bytes from 208.67.222.222: icmp_seq=1 ttl=58 time=9.528 ms
The ping test above is a measurement of how long it takes one "packet" of Internet data to reach another host on the Internet. Bringing London online dramatically increases our reliability, speed and performance for our European users. Additionally, it decreases load in New York and Washington DC providing a win for our users in the US as well. Finally, the more sites we have, the more reliable our network becomes and that is a win for everyone.
We are online in London thanks to the efforts of a few really superb technologists and friends. I'd like to thank James Rice for his on-site help as well as his excellent guidance and advice along with Nick Waterman who fixed a minor issue we were having with our IBM BladeCenter chassis. Nick did this on December 29th, when he could have been at home with family or out partying; we really appreciate it Nick. James and Nick run Jump Networks, a high-quality, technically-savvy service provider in London.
I'd also like to give a big thanks to Chris Orme and Philip Baker from Datahop, a metropolitan fiber network in London which provides all kinds of really convenient network services. Chris worked tirelessly to make sure we could be online with our transit provider, NTT Europe in a timely fashion. It's hard work getting folks to do things during the holidays and Chris made sure it happened. Even more impressive, Philip spent time late at night with our routers and switches making sure they were in good shape to turn up a BGP session with NTT Europe. James, Nick, Chris and Philip all went way above and beyond the call of duty and we appreciate it. I highly recommend both Jump and Datahop to anyone looking for transit and colo in London. Thanks guys!
We're proud to be in London and look forward to peering with networks currently connected to LoNAP, a growing peering point in London. We are also considering a peering session at LINX, one of the largest exchange points in the world.
Happy New Year from everyone here at OpenDNS and we'll see you in 2007!
This post is categorized in: