The following release is not being distributed far and wide. 😉
OpenDNS Thanks Its Users with Cranberry Choice for Thanksgiving
Canned or whole cranberries, intelligent DNS platform offers users choice about how they want their turk…err, DNS.
PLYMOUTH ROCK, Mass. – Nov. 22, 2006 – Just in time for the American holiday of Thanksgiving, OpenDNS offers additional choice in DNS: canned cranberry sauce or whole cranberry sauce or none at all.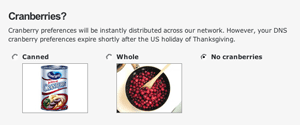 All OpenDNS users enjoy a fast, free, reliable DNS service, with the safety of phishing prevention and the intelligence of typo correction. That service is available with or without an Account. With a free OpenDNS Account. users can choose their own DNS preferences. Those preferences now include cranberries: canned, whole, or none at all.
By default, OpenDNS will deliver DNS without cranberries. But with an account, OpenDNS users can change their cranberry preference and have that taste distributed around the global OpenDNS network instantly.
Canned versus Whole
It's a debate that stretches back generations: which kind of cranberry sauce goes best with the traditional turkey dinner? The advocates of canned sauce praise the consistency, in texture, mouth feel, and shape, and welcome the common thread that weaves together Americans throughout the nation. The ridges left by the sturdy can mean Thanksgiving to many.
For others, nothing says Thanksgiving more than whole cranberries, in all their aromatic tartness, waiting to be dribbled over their turkey (and anything else!). The variations are cherished, and the "natural" state gently evokes the first Thanksgiving's hardships (without actually requiring suffering).
Further background may be enjoyed at "The Great Cranberry Sauce Debate."
Note: For those who stay on the side of this great divide, stay with the default: DNS without cranberries. It's still free, fast, and reliable.
Next year's preference? Indicate whether you like your DNS with dark meat, white meat or drumsticks.
P.S. Happy Thanksgiving. OpenDNS understands that the cranberry preference may be of limited value to those who do not celebrate Thanksgiving; we promise to consider other preferences appropriate to local holidays.
This post is categorized in: