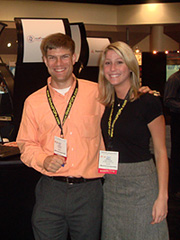 John and Allison
(picture by David)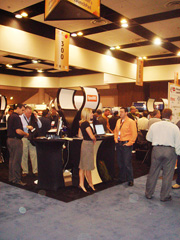 LaunchPad area
for first-time exhibitors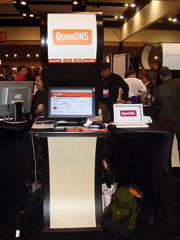 Kiosk O
for OpenDNS
For three days this week, three members of the OpenDNS team were in Santa Clara, California at ISPCON, sharing OpenDNS with a bustling group of ISPs and infrastructure vendors of all sizes.
The show operated smoothly, and we got the chance to tell lots of new folks about why OpenDNS can deliver great DNS for ISPs and their customers. Tuesday and Wednesday were pretty busy. Thursday morning was quiet, but by that time, so were we!
Launching Accounts for the conference was useful, mostly because there are some great features for ISPs and others running large networks that will be built on top of Accounts.
Many thanks to Denise Miller and the rest of the ISPCON team (The Golden Group) for running a good show and helping us out with some special requests.
This post is categorized in: